Hi Readers, do you remember me?
I'm still here, I have been creating like crazy but I just have not posted fuh-ever.
SORRY!!!
How have the Holidays treated you? I hope they have been wonderful!
Um K, let me catch up to speed.
It has been quiet around here since we have had some kind of fungus in our house. We have fought off Pink Eye, and all four of us had an Ear Infections at the same blasted time! I had a crunch time right before Christmas trying to get vinyl orders designed and out to customers, whichI pulled through, Barely! We have decided to take it easy, and I have LOVED every minute of it! The Mr. even took time off and we have really enjoyed having him home with us.
I know this is a little late but, here is our Christmas Card that we sent out this year.
I designed them with
Shutterfly
, and I couldn't have been more pleased.
If you haven't browed their amazing selection and options yet, I highly recommend that you do.
It's also helps when you have two little cuties like this to work with.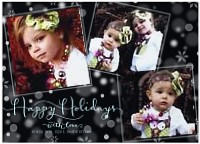 I am also bouncing in to let you know that I have some new listings up in my
Etsy Shop
. One is a
Chalkboard Menu
and the other is
Family Est.
sticker to proudly display when you started your little family, great for above a door or a grouping of photos.
Thanks for stopping by!